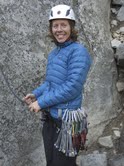 Thank you for all of your entries into the 17th Growth Minded Educator Contest! The Growth Minded Educator of June is: Kelly McDonough
Congratulations to our winner, and thank you to all who participated! We received some fantastic submissions, and will reach out to some of you to discuss ways to share the other entries.
Below is the winning entry to the contest question: "Summer is a great chance to catch our breath, break the routine, and do things that we don't have time for the rest of the year. How do you plan to stretch, grow, and recharge this summer?":
I have been teaching for 16 years, and long before I ever heard of a growth mindset, I sought out experiences in which I could be a beginner. It started with a ballet class for adults, where I noticed myself feeling nervous, comparing myself to others, wondering if I'd be good at it, and hoping I'd connect with the teacher and my classmates. I teach first grade, and I realized quickly that these feelings were ones that my students probably experienced all the time.
As adults, it can be easy to settle in to our jobs, our hobbies, our sports- the things we've already had a ton of practice doing, and become complacent about what it's like to really try to learn something. I made it my (super fun) mission to keep trying new things. I joined a masters' synchronized swimming team and took guitar lessons and sewing classes. When I learned about Mindsets several years ago, I turned it up a notch, really trying to see if I could learn things I'd always thought were natural-born talents. As a result, I finished an Ironman triathlon and took up rock climbing. So this summer it's singing. I can't sing well yet and I'm awfully nervous about it but I'm going to find a voice teacher and try to learn to sing a little better than I do now.
About Kelly McDonough
I teach first grade at Brandeis Hillel Day School, and this year I will also work as a literacy coach in the lower school. I have been teaching in the San Francisco Bay Area for 10 years, and have been lucky to also get to teach in Thailand, Costa Rica, South Sudan and a few other wonderful places. I have spent most of the summer so far living in Truckee, California, where I've been working on my rock climbing skills. My voice lessons start this week when I return to San Francisco!